Irish Musical Traditions and Traditional Adirondack Music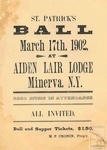 While Irish have been arriving in North America since the early day of colonization, the 1840 potato famine was responsible for a flood of new emigrants. Often arriving in Boston, New York, or Halifax, plenty of Irish found work as laborers, woodsmen, and farmers in Northern New York State. Many North Country communities have a significant percentage of Irish heritage, but few have maintained active musical connections to their heritage, perhaps because new emigration slowed to a halt in the 20th century. Irish communities in larger centers like Boston and New York continued to receive new emigrants, keeping people closer to the source of traditional music. Nevertheless, music has remained important in the maintenance to some North County families' Irish ethnicity.


Dan Hurley (1932 - ) of Potsdam comes from an Irish-American family that settled on the French Hill Road near Colton, New York around 1870. His grandmother Maria McHale Hurley (1876-1961), came directly from County Mayo, Ireland at age 18 and joined a growing Colton Irish community that contained others from her village and extended family. While Hurley remembers his grandmother speaking Gaelic and distinctly recalls Irish Roman Catholic customs, including family all-night wakes, with keening and rosary sessions alongside the body of the deceased, his Irish musical ethnicity is most strongly associated with his family's singing activities. Sometimes accompanied by a harmonica, fiddle or pump organ, Dan Hurley and his family loved to sing together.

Depending on the season, Hurley's great uncles were lumberjacks, peddlers, and farmers. Their repertoire ranged from traditional Adirondack ballads to the popular Irish songs such as "Rose of Tralee," and "Danny Boy." Dan Hurley's father, Stephen (1903-1969) was a noted local "Irish barroom tenor," with a beautiful voice, great charm, and command of a vast number of popular and traditional songs, both serious and humorous. Stephen's cousin, Father Charlie McHale (1923-2006), a Catholic priest in the Archdiocese of New York and an admired singer of Irish songs, frequently visited his family in the Adirondacks. His musical legacy has been preserved in a recording of Irish songs that he made for his congregation in the 1950s.

Beginning in the 1940s, the Hurley's loved to sing close harmony songs in barbershop style. Mills Brother's standards like "Down by the Old Millstream" were great favorites. The Hurleys also participated in the town's minstrel shows by acting, singing, and dancing in these productions. Subsequent generations of Irish-American Hurleys have continued to be actively involved in music, and some of the Irish songs in their repertoire have retained special meaning. In fact, all three of Steve Hurley's male grandsons are professional musicians today, and some granddaughters are involved with music, as well.
While the North Country Hurley family did retain some songs that evoked a specific Irish ethnicity, other Irish-American families have retained a more authentic Irish style.
"On the Hoko Moko Isle"
Steve and Phil Hurley's version of
"On the Hoko Moko Isle."

Well the first white man that landed
on the Hoko Moko Isle,
Was Pat McShane from the wreck of
the Main with his great big Irish smile.
And when the natives saw him
they gathered round and began to sing,
They took off his clothes, put a ring in his nose, and then they crowned him king.
Oh he ruled awhile on this fair isle,
and then sat down and wrote,
To the prettiest little girl in Ireland he sent this little note:

Oh won't you come down to the isle of the Hoko Moko, a trilli-oko,
And see your lover riding on a jumbo,
a trilli-umbo,
It's great to be a king, that's true, but I'd give my crown for an Irish stew!

It's going to drive me loco, in a coco,
My sweet Helena, come and be my queeno, a Philipino,
And we'll get married on a crocodile.
And for the ring, dear, I suppose,
We can use the one that's in my nose,
Down on the Hoko Moko Isle!

Be sure to bring your mother, dear,
For the cannibals are hungry here,
Down on the Hoko Moko Isle.
The song "On the Hoko Moko Isle" illustrates how songs can serve as markers of ethnicity and family heritage as they are passed down from generation to generation. This song was a favorite with the families of both Stephen Hurley and his friend Roy Thomas from Colton. We don't know who first learned it; perhaps someone had sheet music for it, but my grandfather Steve Hurley was often asked to sing it, and his children all learned it, too. While not at all politically correct by today's standards, the song tells the silly story of an Irishman shipwrecked on a tropical island who writes home to Ireland to ask for his sweetheart's hand. Around 2000, my brothers Steve and Phil Hurley decided to perform and record the song as a Christmas present for our father, Dan Hurley.

My family knew nothing of the history of the song. Research eventually revealed that it was published in sheet music form in 1916 by Tin Pan Alley songwriter Harry Van Tilzer (1872-1946), a well-known song composer who wrote numerous popular parlor hits including the classics "A Bird in a Gilded Cage" and "Wait Till the Sun Shines Nellie."

Lou Klein collaborated on the lyrics for "On the Hoko Moko Isle." Tin Pan Alley composers wrote many similar Irish-themed novelty parlor songs, and this song might well have been performed in vaudeville shows or Irish reviews around 1920. An instrumental version of the song performed by the Jaudas Society Orchestra was recorded onto Edison wax cylinder in 1916 and is available for downloaded here, or to online listeners by clicking the audio clip below.

Novelty songs, popular songs, and Traditional Adirondack Music were often featured in community minstrel shows, which were popular forms of North Country entertainment well into the 20th century. This particular song combines Irish ethnicity with the exotic as part of a wave of popular songs during the early 20th century inspired by Hawaii and other South Sea islands. It is interesting to see what survived of the song after some 85 years in the oral tradition. A close comparison of the two versions reveals that a good percentage of both the melody and the lyrics survived intact. While this song is not really Irish, in my family it serves to remind us of our Irish roots and our love for making music together.