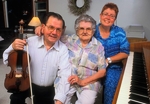 Born into a family of dance musicians and callers in Wilmington, Don Perkins knew he would learn to play the fiddle from a very young age. His grandfather Perkins was a logger and fiddler, father Francis Perkins was known as the best dance caller in the area, and his mother Lois Perkins loved to dance to her fatherís fiddle. Don and his siblings would spend much of their youth traveling the North Country with their French Canadian father to various square dances he was calling, absorbing the old music as they went.
When Donís grandfather refused to teach him to play the fiddle, he went ahead and learned--by ear--all of the melodies heíd heard at home and at dances, with his mother chording on the piano and humming the tunes to him for support. When his asthma would keep him home from school, young Don was known to lie on the couch and play his fiddle right through the attacks. He learned many more tunes from radio and records.
Over the years, Donís playing has evolved to include more modern styles such as bluegrass and country-western. All the while, though, he has continued to carry the torch for the old-time fiddle music he grew up with. Now based in Plattsburgh , Don Perkins has won numerous fiddle contests, recorded several LPs and CD's and published at least one book on fiddling. He is widely regarded as an outstanding New York State fiddler.
TUNES: