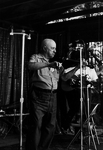 Roch "Frenchie" Chaloux was a true North Country "jack of all trades," working at various periods of his life as a farmer, carpenter, miner, aluminum worker, rum runner, CCC employee, aviation repair professional and real estate developer. Chaloux also loved to play the fiddle.
Born in 1903 in the St. Chrysostone area of Quebec, Canada, Frenchie started playing the fiddle at the age of sixteen, influenced by his fiddling uncle Joseph Arthur. The first tunes he learned to play were "Larry O'Gaff," "Bird in a Cage," and "The Girl I Left Behind Me."
Roch would soon be playing kitchen "hops" along with other local fiddlers near St. Chrysostone. In Quebec, he'd say, they always liked to have a piano back-up for dances when available--if there was no piano, they didn't want any backup at all.
After moving to Massena for work as young man, Chaloux spent the remainder of his life in Northern New York towns including Tupper Lake, Massena, Chateaugay, Taberg and Rome. He fiddled most of this time for fun, and often for a few bucks as well. One two-year period found him driving straight from work every Tuesday and Thursday to the St. Francis Hotel in Saranac Lake where he fiddled on the air on WNBZ radio.
When Alice Clemens interviewed Frenchie in 1985, he claimed to know exactly 387 fiddle tunes. His favorite tune at that time was "Canadian Four Step," and he enjoyed listening to the recordings of Canadian fiddlers Don Messer, Andy DeJarlis and Rudy Meeks. What we hear here are a few pieces recorded during this interview late in Chaloux's life.
TUNES: