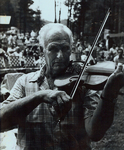 Kenneth A. Bonner (1911-1982) was born in the small country town of Burke, New York (Franklin County) on September 25, 1911. The child of Arthur and Ida Bonner, he was to become known throughout his home state as "Fiddlin' Ken Bonner" and "The Man from the Mountain."
In spite of little exposure to music around the house, Ken got the bug at age twelve to play the dusty old fiddle that had sat unused in a homemade chestnut box on his grandfather's shelf. He listened intently to the fiddlers at the kitchen "hops" he and his parents attended, later to go home and pick out the tunes by ear. Years later he would laugh as he remembered having to re-learn all of these pieces, once he learned to tune his fiddle correctly!
Bonner went on to learn numerous tunes from an old French-Canadian fiddler named Napoleon Fountain. Ken would walk three miles--sometimes in the snow--to visit "Old Poli," as he called him, and pick up a new tune or two. He later composed two original fiddle tunes in honor of his old mentor ("Fountain's Jig" and "Fountain's Reel").
Ken set out for the Lake George/Glens Falls area in 1930, and mostly remained there until 1979 when he moved to Oswego. His adult years in the southern Adirondacks would find him playing dances up to six nights a week and winning fiddle contests all around the area, including the Senior Division at the Adirondack Fiddle Festival. The local dude ranches, which were very popular at the time, provided another source of employment for Bonner and his fiddle, and led to off-season engagements in New York City and, in 1939, at the World's Fair.
Ken Bonner continued to play the fiddle right up until his death, always eager to preserve and perpetuate the music by teaching, making fiddle recordings for fiddle fans and playing whenever he was asked. A strongly rhythmic fiddler, Bonner composed many of his own original fiddle pieces, several of which are still being played today around New York State and beyond.
Special thanks to the New York State Old Tyme Fiddlers Association for biographical information on Ken Bonner.
TUNES: