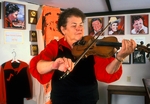 Alice Clemens (1922-1999) was known as "The Queen of New York State Fiddlers." She was hooked at age three when she heard great-uncle Art Colvin fiddle for a dance, and by seven she was learning his tunes on her own instrument. Although Alice learned how to read music, she always found it easier to pick up a tune by ear.
For most of her life she played for parties and country dances near home, although she also had some memorable experiences performing well outside of the Adirondack foothills. Some of her personal highlights included playing in the Metropolitan Museum of Art in New York City, playing for Russian and American wrestlers on Long Island, and playing for nursing homes and developmentally disabled populations around the state.


Meet the Masters Radio Documentary:
Since 1993, TAUNY has been recognizing individuals, families and community groups with North Country Heritage Awards their significant contributions to our living local cultural heritage. The major criteria include evidence of traditionality, mastery, and creativity; a commitment to the art form over time; and a commitment to the community and to the teaching of others.

During 1999-2000, folklorist Varick Chittenden and audio producer Lamar Bliss researched, wrote and produced a series of 19 half-hour documentary features on award recipients for broadcast on
North Country Public Radio.

The following is the program about Alice Clemens from that series.
---
Alice Colvin Clemens talks about the long heritage of fiddle music in her family, her earliest recollections of wanting to play and having a few violin lessons as a child, going to house parties during reunions in the old family farmhouse in the Tug Hill, her participation in the founding of the New York State Old Tyme Fiddlers Association and the National Fiddlers Hall of Fame in Redfield, and the challenges for a woman to play the fiddle publicly and in contests when she was younger.
Tunes included are "Golden Slippers," Irish Washerwoman," "Pistol Packin' Mama" (with her square dance calls), and "God's Blessing on Four Strings," her own composition.

Alice usually performed with guitar or piano backup, and sometimes with other fiddlers as well. From 1960-1975, she also worked with the group "Alice and Her Country Cousins,"and she played at the Redfield Hotel for many years.
In her own words, "I pound on a piano to chord with other fiddlers, but I am really just a fiddler. I like jigs, reels, waltzes, and pop and country."
She collected hundreds of nearly-forgotten fiddle tunes from old-time musicians of the region, providing the Library of Congress archives with 27 tunes thought to have disappeared from public knowledge.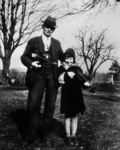 Alice was especially proud of teaching her own daughter, granddaughter and great-grandchildren to fiddle. She often said, "If you want to have fun in life, get a fiddle in your hands."
A tireless advocate for old-time fiddling and old-time fiddlers of the region (and beyond), Clemens founded the New York State Old Tyme Fiddlers Association (NYSOTFA) and co-founded the North American Fiddlers Hall of Fame and Museum in Osceola. NYSOTFA encourages the gathering of fiddlers from all over the state in regional groups to learn and play the old fiddle tunes together, and the Hall of Fame maintains an extensive archive and sponsors fiddling contests each year. For more information on the Association's North American Fiddling Hall of Fame, their summer concert schedule, and other activities, go to http://nysotfa.homestead.com

TUNES: