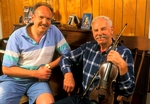 Victor Fountain Kibler was born in 1919 in the town of Wells, Hamilton County, and comes from a long line of Adirondack musicians on his mother's side of the family. The rare area fiddler who has never played for dances (he promised his mother he wouldn't), Vic is nevertheless a treasure trove of regional dance tunes and fiddle pieces he's picked up from family, friends, fellow musicians, recordings and more.
Vic Kibler's earliest influences on the fiddle include his great uncle Lewis "Lukie" Nichols, uncle Echtor Fountain, uncle Maurice Fountain, grandfather William Fountain and his mother Florence Fountain Kibler.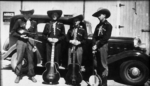 As a very young boy, Vic would absorb the old fiddle tunes, quite unconsciously, while being babysat by his fiddling relatives. He would later pick up his aunt's fiddle at age thirteen and try to pick out the melodies he remembered hearing. His uncles were always glad to set him straight when he had something "not quite right."
In his teenage years, Vic spent summers at great uncle Lukie Nichols' farm in Speculator; they'd "hay it" by day and sit at night playing fiddles on the front porch. Nichols played with a long-bow technique that Vic "never could catch," try as he might, though he learned many tunes from his great uncle that he's never heard anywhere else. Lukie Nichols had played dances all around the Speculator/Piseco/Lake Pleasant area for decades before giving up public playing around 1940.

Meet the Masters Radio Documentary:
Since 1993, TAUNY has been recognizing individuals, families and community groups with North Country Heritage Awards their significant contributions to our living local cultural heritage. The major criteria include evidence of traditionality, mastery, and creativity; a commitment to the art form over time; and a commitment to the community and to the teaching of others.

During 1999-2000, folklorist Varick Chittenden and audio producer Lamar Bliss researched, wrote and produced a series of 19 half-hour documentary features on award recipients for broadcast on
North Country Public Radio.

The following is the program about Vic & Paul Kibler from that series.

---
Retired auto mechanic Vic Kibler of Vails Mills and his son Paul, at the time a social worker in Plattsburgh, talk about the significant role of music in their family for generations, the story of Vic's fiddle which he has played for over 60 years, his lifelong resistance to playing for dancing since his mother's strict religious beliefs forbade it, the influences on his music including two uncles with very different styles, how appearing in public has affected him in later years, and how audiences affect his playing.
Tunes included are "Lighthouse Reel," "Grandpa's Reel" and "Pole County Breakdown."
Although mainly an "ear player," Vic remembers being sent as a teenager to violin lessons with Broadalbin fiddler Ray Nash. Kibler's mother felt that the church orchestra would be a great place for him to play his music, always afraid of the "bad company " he might encounter if fiddling for dances. What his mother didn't know was that his 30-minute formal lesson in note reading and technique would often be followed by up to two hours of fiddling with his teacher!
In later years, Vic was exposed to the sounds of more modern Canadian and American fiddlers on radio and television, in concerts, on printed music and perhaps most influentially, at fiddle contests. Often serving as a judge for regional competitions, he would make recordings of tunes that he liked from the playing of others, later to go home and add them to his own repertoire. He claims to have once tried to list all of the tunes he knew; at somewhere between 400 and 500 he found he was repeating himself and stopped.
By the time Vic recorded his first and only commercial release in 1992 , Vic Kibler: Adirondack Fiddler, he had largely moved away from the older "family tunes" he had grown up with. The album (now available on Sampler Records) featured a healthy dose of the newer fiddle tunes he found so exciting--those of Canadian fiddlers Don Messer, Rod Dorman, Bill Guest, Graham Townsend and others--alongside a good sampling of older pieces he'd learned from family and other area musicians. The release was selected as a 1992 Outstanding Folk Recording by the American Folklife Center of The Library of Congress.
TUNES: