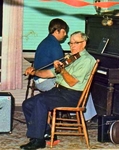 Howard Woodcock was born June 29, 1911 in the Town of DeKalb, near Rensselaer Falls, and lived on the family dairy farm his entire life. His son Donald is the fifth generation to live on the same farm.
Howard's father played the banjo and his mother and sister Dorothy played piano. At the early age of seven, Howard started playing tunes on the fiddle, and had played his first dance by fourteen. Although he did take formal violin lessons, playing by ear came so naturally that it would influence his approach to music far more than his "note" training. He went on to play dances at Grange halls and old-fashioned house parties on his own and as a member of a dance band called "The Rhythmettes."

Meet the Masters Radio Documentary:
Since 1993, TAUNY has been recognizing individuals, families and community groups with North Country Heritage Awards their significant contributions to our living local cultural heritage. The major criteria include evidence of traditionality, mastery, and creativity; a commitment to the art form over time; and a commitment to the community and to the teaching of others.

During 1999-2000, folklorist Varick Chittenden and audio producer Lamar Bliss researched, wrote and produced a series of 19 half-hour documentary features on award recipients for broadcast on
North Country Public Radio.

The following is the program about Don Woodcock from that series.
---
Like so many other local traditional musicians, Don Woodcock grew up with music, surrounded by relatives who loved to play and sing at home. He speaks about his family dairy farm, the earliest influences on his music, especially his Aunt Dorothy and father Howard Woodcock, his father's playing for dances at local Grange and town halls, men in his farming neighborhood who contributed a lot to his style and repertoire, early fiddling contests, his own competitions that led to his being made New York State Grand Champion Fiddler, and a little philosophy about the role of music in some people's lives.

Besides excerpts of several fiddle tunes, the piece also includes "Silver Dollar Waltz," "Peekaboo Waltz" and "Maple Sugar."
Howard won several fiddling contests around the region, and in later years he would play with his Scottish neighbor Charlie Anderson and occasionally with his son Don, for senior citizen dances. He enjoyed playing the traditional old-time fiddle tunes like "Opera Reel,""Fisher's Hornpipe," "Devil's Dream" and "The Portland Fancy," and he strove to render them as he'd heard them in his youth. "This house could probably tell a lot of stories about music if it could talk," he once remarked.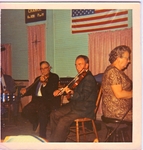 The first tune fourteen-year-old Don Woodcock played on the fiddle was his father's version of "Road to Boston." He was soon playing "out" [in public] for dances and, for a number of years, competed in various local and regional fiddling contests. More than forty years later, Don now holds the title of Grand Champion Fiddler of New York State, having won the state championship contest three times.

By 1987 he was inducted into the New York Fiddlers Hall of Fame in Osceola. His peers say Don Woodcock's playing is technically superb and he is widely recognized for having one of the greatest repertoires of traditional fiddle tunes anywhere around.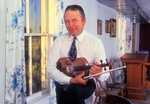 Don frequently has played at shows and exhibitions in Northern New York, Vermont and eastern Ontario, and has been known to fiddle in country, bluegrass and jazz/swing groups as well. In recent years, he has performed with pianist Myriam Gagner and drummer Rhonda Roethel, a combination found commonly at house dances and local dance halls of his father's generation.
In 2005, Don recorded 23 traditional tunes on a CD album titled A Reel Tradition—Musical Memories of St. Lawrence River Valley Dance Halls, including several that he only ever heard his father Howard play.
TUNES: