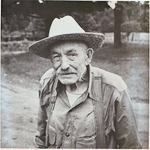 John Galusha, or "Yankee John" as he was known locally, was born in the town of Thurman (Warren County) in 1859 and worked his whole life in the Adirondack region as a logger, farmer, forest ranger and guide. Starting at age sixteen and for decades afterwards, he'd spend the fall and winter months in the lumbercamps, then work the Boreas, Hudson, Moose and Beaver Rivers in the springtime driving logs downstream to the mills. Summers were reserved for guiding and/or farming, and in later years, fire observing on Vanderwhacker Mountain. Then, back to the woods in the fall.
Galusha was living in Minerva at the age of 81 when folksong collectors Anne and Frank Warner first recorded his singing. He had scores of treasured old songs and ballads, singing almost sixty different pieces for the Warners and perhaps a half dozen more for Marjorie Lansing Porter between 1939 and his death in 1950. Yankee John learned his songs in the lumber woods and from neighbors and friends, and his repertoire was rich with old and sometimes rare songs of historical events, local characters and happenings, lumbering work and more. With ancestral roots in Ireland, he also sang a hearty helping of Irish and Irish-American broadsides, ballads and songs.
Singer Jeff Davis points out that Galusha's singing of Civil War era songs was "particularly intense"; two examples are included here. Yankee John had vivid memories of one of his brothers being carried home, mortally wounded, from the Battle of Cold Harbor.
It is interesting to wonder what John Galusha might have sounded like when "young and in his prime." Below we have several samples of Galusha's singing from 1941-1950, generously provided by the Warner family from their collection. In his advanced years, he sang his songs with great emotion, and although his pitch would sometimes waver or wander, his prodigious memory for these often lengthy pieces allowed him to sing many of them straight through without hesitation.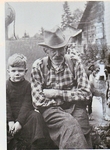 (Due to the need to conserve resources on many of the Warners' song collecting trips, they would record just a minute or so of each song--enough to firmly establish the singer's melody--then note the remainder of the song lyrics with pencil and paper. What we have below are their complete recordings of three of Yankee John Galusha's songs.)
SONGS: