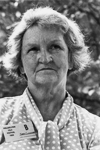 Sara Cleveland (1905-1992) has been called one of America's most important ballad singers. Born in the southeastern Adirondack region, she started learning the old songs and ballads of her Scotch and Irish parents and relatives at a young age, all the while collecting scores more from friends, neighbors and extended family in the Adirondacks. Around the age of sixteen, Sara and her mother started to compile a notebook of these pieces. With the later help of a cousin, the collection eventually grew to include over 900 regional, American and British Isles songs, and remains a cherished family heirloom to this day.
For most of her life Sara was a domestic singer who "thought nothing much of it." Singing was just something to help make the daily work of dish washing a bit more pleasant, to pass the time on lengthy trips, or to entertain family and friends between stories in the evening.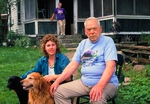 It wasn't until the late 1950s that she was "discovered" as a tradition bearer and ballad singer of the highest caliber, something that Sara herself found "amusing" according to granddaughter Colleen Cleveland. Sara's son Jim, who was frequenting legendary coffeehouse Caffe Lena in Saratoga Springs during these early years of the Folk Music Revival, mentioned one night that his mother knew some old songs and had written them down. The notebooks were soon in the hands of folksong collectors and record producers Sandy and Caroline Paton, who found therein a goldmine of old British Isles, Irish, and American songs and ballads.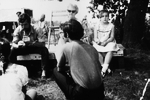 Meet the Masters Radio Documentary:
Since 1993, TAUNY has been recognizing individuals, families and community groups with North Country Heritage Awards their significant contributions to our living local cultural heritage. The major criteria include evidence of traditionality, mastery, and creativity; a commitment to the art form over time; and a commitment to the community and to the teaching of others.

During 1999-2000, folklorist Varick Chittenden and audio producer Lamar Bliss researched, wrote and produced a series of 19 half-hour documentary features on award recipients for broadcast on
North Country Public Radio.

The following is the program about
Jim & Colleen Cleveland from that series.
---
The son and granddaughter of the late Sara Cleveland, celebrated ballad singer of Brant Lake, recall the importance of singing in the family, discuss their Irish heritage, relate how Sara was discovered during the Folk Revival, Sara's lifelong recording of old song lyrics in notebooks, and their own contributions to keeping the music alive.

The documentary includes early recordings of Sara by folklorists including the rare ballad "Queen Jane," Jim singing "Fifteen Men on a Dead Man's Chest," and Colleen singing "Woodsman's Alphabet" and "Three Men Went a Hunting."
The 1960s found Sara appearing as a featured performer at major music events across America, including The Newport Folk Festival, Philadelphia Folk Festival and the Smithsonian Folklife Festival in Washington, D.C. She also became a regular performer at smaller folk venues in the Northeast, delighting audiences with her songs and stories even after losing the majority of eyesight in an accident. Sara seemed right at home on the concert stage, allowing much of her playful, salt-of-the-earth personality to come forth, and she sang songs in the clearly articulated and unornamented style stressed within her family.
See entries for Paton and Goldstein in the "Collectors" section for leads to further details about Sara's biography, repertoire, and singing. Jim Cleveland, the older of Sara's two sons, knew many of the family's songs in addition to others he had picked up on his own. He was, in the words of the Patons, "an excellent but exceedingly bashful singer." Jim and his daughter Colleen, who was encouraged by Sara from an early age to carry on the tradition, began singing the family repertoire in public after Sara's death at the urging of folklorist Vaughn Ward.
A 2002 CD release entitled Treasures from the Attic--The Cleveland Family showcases the singing of both Jim and Colleen along with Colleen's nephew James and brother Curt Cleveland. Since Jim's death, Colleen Cleveland stands today as the family's primary tradition bearer, a role that she takes great pride in and carries on in Sara's Irish-influenced Adirondack style.

SONGS: