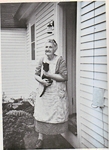 Lena Bourne Fish, or "Grammy Fish" as she was known, grew up in the town of Black Brook and spent the first 24 years of her life in the northeastern section of the Adirondack Park. It was there that she inherited an immense song repertoire that had been "kept in (her) family for more than two hundred years."
Song collectors Anne and Frank Warner, Helen Hartness Flanders and Marguerite Olney visited and recorded Mrs Fish's singing in the early 1940s, when she was living in East Jaffrey, New Hampshire in her late sixties. She sang nearly 100 songs for the Warners over four recording sessions, and it is from those recordings that we have the two songs below.
Lena learned her songs from many places but, like numerous other Adirondack singers, an early and very important source was her own family. Her father, Stratton Bourne, was a lumber salesman in the Adirondacks, supplying wood to the iron trade for charcoal. He had songs, Irish and otherwise, he'd learned from the men he worked with and encountered in the woods. Uncle Butler Bourne, who lived alone on Whiteface Mountain in his later years, was said to have had a "chest full" of songs that he passed down to his nieces. Mrs. Fish no doubt learned pieces from other family members, neighbors and friends as well.
Mrs. Fish, who was often ill and fearful for her health as she grew older, had something of a miraculous recovery after her visits from folksong collectors. The attention created interest from the community at large in her songs, which led to public performances at community events and schools. She started a mimeographed song newsletter called "The Dreamer," and the last years of her life were busy and happy. With several notebooks filled with handwritten lyrics and a head full of tunes and song associations, Lena Bourne Fish took her role as keeper of an old and rare repertoire seriously, and old and rare it was; many of her songs have not been found elsewhere in North America.
[Due to the frequent need to conserve resources on collecting trips, the Warners would record just a minute or so of each song--enough to firmly establish the singer's melody--and then note the remainder of the song lyrics with pencil and paper. What we have below are their complete recordings of two of Lena Bourne Fish's songs.]
SONGS: