Ermina Craig Pincombe, Town Supervisor for Benson, can trace her family history in the Wells area back to the year 1796. She was born in 1930 to Otto and Isabella Craig, the oldest of three children. Like so many Adirondack musicians, Ermina grew up with music around the house. Her father played tenor banjo and fiddle, her uncle "Pete" Archlus Craig and grandfather played the fiddle, her grandmother played piano and sang around the house, and her mother played piano; all played for dances.
Ermina credits her grandmother with introducing her to songs as a child, some of which she researched and found full texts as an adult. Items passed down through the family include a number of popular sentimental songs of the late nineteenth and early twentieth century ("Katie Lee and Willie Gray," "The Old Wooden Rocker," "When the Bees are in the Hive," "Just Tell Them That You Saw Me"), a handful of Civil War era songs ("The Year of Jubilee," "Old Johnny Smoker," and "Marching Through Georgia"), and a unique version of "The Lumberjack's Alphabet"—which Ermina says she sings today just as she learned it, though with her own guitar accompaniment.
Ermina's first stringed instrument was the banjo ukulele, something her father brought home one day when she was five years old. "He went out and sat down someplace and then it wasn't a second, and I mean it was immediately, that I was playing 'Go Tell Aunt Nabby'!" By the age of nine, Ermina was playing tenor banjo, soon followed by fiddle; her first tune on the fiddle was "Marching Through Georgia." Around the same time she started to play the guitar. Ermina went on to play as much music as she could throughout her growing up years, both with family members and on her own. She was able to put guitar chords to many of the songs her grandmother had taught her simply by using her ear ("I just always knew what the chords should sound like," she has said). Her guitar playing today is generally what is called "Carter Family style": individual bass notes on each downbeat, alternating those with rhythmic strums and short, single-note runs to connect the chords. She learned the style by listening to radio and commercial recordings of the 1930s and '40s.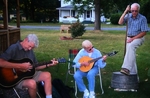 As a young adult, Ermina continued to play the variety of instruments. Eventually she added the mandola [related to the mandolin]. While most enjoying playing socially with other musicians, strictly for fun, Ermina in adult years has done many "professional jobs" at community events and festivals. She's played at lots of dances, too, but always as a guitarist backing up someone else playing fiddle; she prefers to keep her fiddling as an activity that is home-based, or socially among friends that over the years include fiddler and distant cousin Vic Kibler, and Randy Kerr of Greig.
Today, Ermina Pincombe is just as eager as ever to sing and play music. She keeps several binders at home full of song lyrics along with set lists from past engagements. "I get hungry for someone to play music with me," she says, "because it's in me and I want to get it out." She admits some frustration, and worries that her family's legacy of home-made music and song may be coming to an end.
(For a more extensive discussion of Ermina Pincombe as an Adirondack musician, see Dave Ruch's previously unpublished manuscript, "Music in an Adirondack Family". )

SONGS: