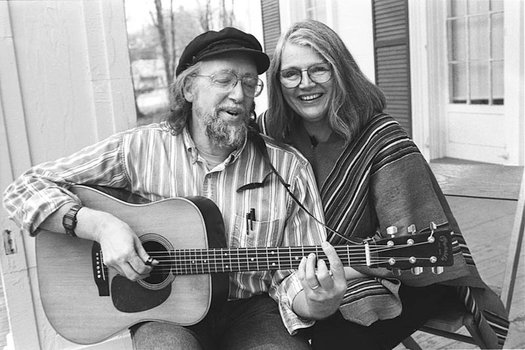 George Ward (1938 - ) and Vaughn Ramsey Ward (1939 – 2001) grew up in distinctly different parts of the United States—he on Long Island, she in northeastern New Mexico. During his undergraduate days in the late 1950s at Union College in Schenectady, George went to Outing Club parties when folk songs were sung and played around the camp fire. For one party, Lawrence Older—fiddler and singer of old songs—was invited to join in. That was the beginning of a 22 year friendship. Sometime later, when George was a student at Cornell Law School, he took time off one summer to go to the celebrated annual Bread Loaf Writer's Conference near Middlebury, Vermont. There he met Vaughn, a graduate of the University of New Mexico and an aspiring English teacher; for their first date, he took her to meet Lawrence and Martha Older. That was the beginning of very productive partnership in studying folklore of the lower Adirondack region that lasted until her untimely death.
Over the years, Vaughn taught English in Granville, where she introduced students to folklore and encouraged them to interview family members and neighbors to learn about customs and traditions, especially about local mining and ethnic heritage. For 15 years, George performed historical songs at the Saratoga Battlefield for tours. On one occasion, a man asked him about French songs from the Revolutionary War period and that was the beginning of a long relationship with Bernie Ouimet and his Quebec-born family from Cohoes.
In 1968-1969, both George and Vaughn studied in the American Folk Culture program for MA degrees as part of the Cooperstown Graduate Programs. It was a turning point for both of them, where they learned about "responsible fieldwork," and the methodology for studying folk culture. From that point on, they became serious collectors of many aspects of traditional life and cultivated professional and personal friendships with scores of local people. Among them were musicians Clarence "Daddy Dick" Richards, Sara, Jim and Colleen Cleveland, Vic Kibler, and Al and Kathy Bain. In later years, Vaughn developed folk festivals at the annual Washington County Fair and was resident folklorist for the Lower Adirondack Regional Arts Council; George was an active volunteer for both. Today, George continues as a performer and teaching artist, particularly in area public schools, which he has done for nearly 40 years.
The Wards' collection of recorded music, interviews and photographs from the southern Adirondacks is formidable. From it, Vaughn produced several books, including collections of tall tales from Adirondack storytellers Bill Smith and Harvey Carr. George is currently developing plans for archiving the material for public use.