An Evening of Old Time Adirondack Music
On Saturday, May 23, 2009, the historic Edwards Opera House was the site for a concert that was the culminating event of the weekend that celebrated the launch of TAUNY's website "W is for the Woods": Traditional Adirondack Music & Music-Making.
The concert featured
six of the musicians who are profiled on the website. Each of them grew up with music in their families and began young to sing and play, at home and in their communities. Each has been recognized with TAUNY's North Country Heritage Awards, for mastery of their music, maintaining their musical traditions, and sharing their art with others.
The concert was possible
thanks to generous support from Northern Music and Video and Cabot Creamery Cooperative.
Concert participants included:
Da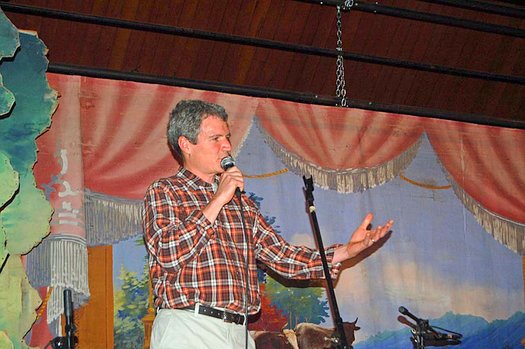 ve Ruch
, a performer, music educator, and historian of New York State traditional music who lives in Buffalo and has a seasonal camp in Piercefield. He travels widely, to perform in concert halls and school assemblies and to teach children about their heritage, with music that is no longer in popular circulation. As Project Director of TAUNY's Adirondack music website, he has done the major research and writing of the text and the detective work to find musicians and music that has never before been pulled together in one place. Dave is the host of tonight's concert.
Ermina Pincombe
, whose roots—both biological and musical--go deep into Adirondack soil. Coming from Benson, near Northville, she sings and plays a variety of instruments, including the guitar, fiddle and mandola, her favorite. As the Town of Benson Supervisor, she is well known for both her political skills as well as for her music. Her public performing is usually for s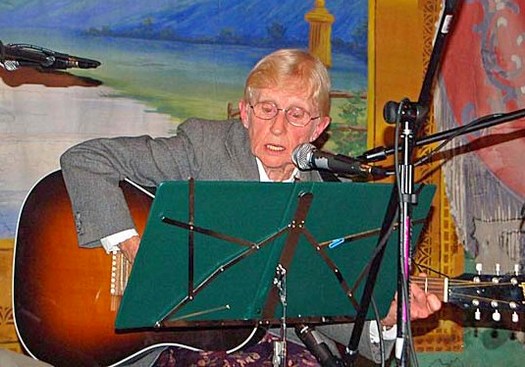 enior citizen gatherings or local community events. She is joined by her son David, a fine singer himself and cantor for the family's local church.
Don Perkins & Phyllis Ezero
, brother and sister from Plattsburgh, grew up in the heart of the Adirondacks, near Lake Placid. Their grandfather Perkins was a logger and fiddler, father Francis Perkins was known as the best dance caller in the a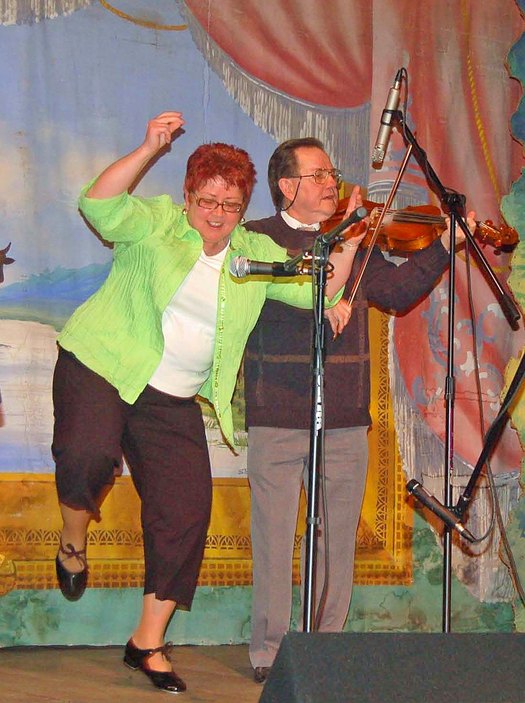 rea, and mother Lois Perkins loved to dance to her father's fiddle. Don knew he would learn to play the fiddle from a very young age, overcoming asthma and poor health to learn by ear the songs he heard at square dances and at home. Phyllis learned to chord on the piano and to step dance from her mother. They bring to us French Canadian
joie de vivre
, as well as a sampling of more modern music, like bluegrass and country-western—that they have turned to in more recent years.
From Brant Lake in the southern Adirondacks,
Colleen Cleveland
brings to us the centuries-old tradition of ballad singing, particularly from her own family's Irish and Scottish roots. Colleen's grandmother, Sara Clev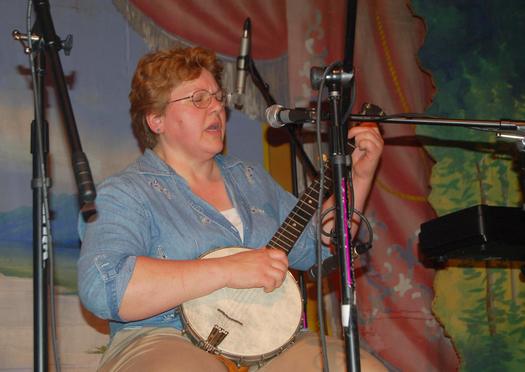 eland, was discovered by folklorists in the 1960s for her large repertoire of old songs—murder ballads, love songs, work songs, and ditties. She was described as one of America's best and most authentic singers and inspired her son Jim and Colleen to continue singing after her death. Colleen sings in the traditional Adirondack style, without accompaniment.
Almost an icon of the Adirondacks himself,
Bill Smith
travels far to share his stories and music with audiences ranging from kindergartners to centenarians. Growing up in a woods family in The Featherbed section of Colton, he learned early from his father and mother about the rich oral traditions of the woods. While he learned some of the lumbermen's songs as a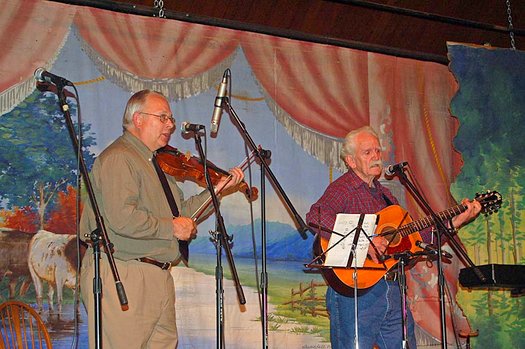 child, he and his mother Emily shared a love for music heard on early radio, from such greats as Hank Williams, Ernest Tubbs and the Grand Old Opry. Bill's repertoire represents a transition in local music, from that passed within the family and local singers to the popular music that dominates today. In recent years, he has performed with Don Woodcock for audiences in the Adirondacks and beyond.
While
Don Woodcock
first learned to play piano to accompany his father Howard's fiddling, by age 14 he himself took up the fiddle. Like his father, he played for dances in Grange halls and community centers and also started competing in local fiddle contests in the early 1970s. More than thirty years later, Don now holds the title of Grand Champion Fiddler of New York State, having won the state championship contest three times. From nearby Kendrew Corners, Don frequently plays at shows and exhibitions in the Northeast, and has been known to fiddle in country, bluegrass and jazz/swing groups as well. Don is widely known for his amazing repertoire of old music and for his technical proficiency on both the fiddle and the piano.